This Intel Xeon Phi 4-node solution is cooled by Calyos LHP technology
Wednesday, 15 November 2017 Source:
Denver, Colorado, USA (13th November, 2017) – Boston are pleased to announce a new cooling solution based on LHP (Loop Heat Pipe) technology introduced to the Boston Quattro 12256-T in partnership with Calyos – on display at the Intel Channel Partners Pavilion at SC17.
This already efficient server has been further improved by implementing a 2-Phase cooling solution, designed for the datacenter, that provides several key advantages such as improved thermals, better efficiency, lower power consumption and extended server operating temperature compared with a traditional air-cooled SKU.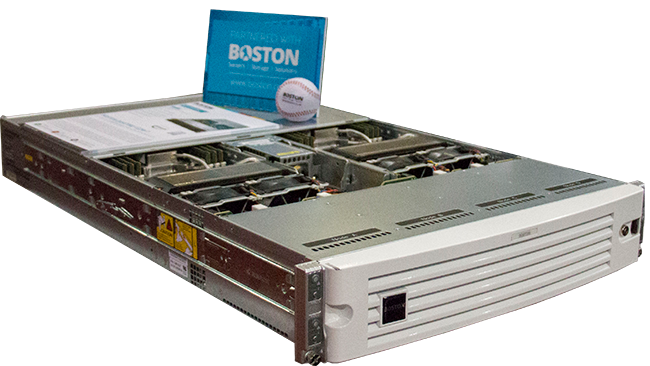 The Quattro 12256-T, based on Supermicro® technology, leverages the latest Intel® Xeon Phi™ processor to deliver massive thread and data parallelism and memory bandwidth, improved single-thread performance and Intel® Xeon® processor binary-compatibility all within a standard CPU form factor. In addition to this, the chip provides up to 72-core per processor with up to 4 threads per core. A total of 288 threads per processor are compatible with software compiled for existing x86 hardware.
As a member of the Boston Quattro range, the Quattro 12256-T has a multi-node design which offers 4 independent compute nodes based on the same Intel® Xeon Phi™ processor. Each node has multiple HDD/SSD support, independent platform management, redundant and optimised cooling, and titanium-level redundant power supplies.
Coupled with optional Intel® Omni-Path Architecture connectivity directly from the CPU socket, the Quattro 12256-T offers a truly integrated, high performance and low latency compute platform with a convergence of the very latest in processing and networking technologies. This offering will accelerate HPC in a variety of use cases which include the public sector, energy, life sciences, financial services and engineering
Manoj Nayee, Managing Director of Boston Limited says; "The Boston Quattro 12256-T LHP edition is a showcase of innovation in server technology that Boston is proud to lead. This solution has already been accoladed by industry professionals in review*, so we were pleased to partner with Calyos to evolve an already popular solution even further."
"The HPC community drives discoveries and innovations around the globe, and demands ever-greater capabilities from their systems," said Trish Damkroger, Vice President of Technical Computing at Intel. "To enable on-going improvements requires the entire community to collaborate on new solutions, and one great example is the innovative new cooling solution from Boston Limited which, when combined with the Intel Xeon Phi processor, provides a solid foundation for highly-parallel computing tasks."
* The Boston Quattro 12256-T was reviewed as 9.0 Outstanding by ZD Net in February this year.
Intel, Xeon and Xeon Phi are trademarks or registered trademarks of Intel Corporation in the United States and other countries.
Notes to editors:
About Boston
Boston Limited has been providing cutting edge technology since 1992 using Supermicro® building blocks. Our high performance, mission-critical server and storage solutions can be tailored for each specific client, helping you to create your ideal solution. From the initial specification, solution design and even full custom branding – we can help you solve your toughest business challenges simply and effectively. Boston.co.uk
For further information:
Maz Lopez, Head of Marketing
Boston Limited
+44 (0) 1727 876 100 - Mon to Fri, 9am to 5:30pm
[email protected]