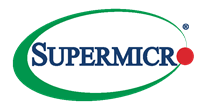 Super Micro Computer, Inc. or Supermicro® (NASDAQ: SMCI), a global leader in high-performance, high-efficiency server technology and innovation is a premier provider of end-to-end green computing solutions for Enterprise IT, Datacenter, Cloud Computing, HPC and Embedded Systems worldwide.
Supermicro's advanced server Building Block Solutions® offers a vast array of modular, interoperable components for building energy-efficient, application-optimized, computing solutions. This broad line of products includes servers, blades, GPU systems, workstations, motherboards, chassis, power supplies, storage technologies, networking solutions and SuperRack® cabinets/accessories. Architecture innovations include Twin Architecture SuperServer®, SuperBlade®, MicroCloud, Super Storage Bridge Bay (SBB), Double-Sided Storage™, Universal I/O (UIO) and WIO expansion technology all of which deliver unrivaled performance and value.
Supermicro combines 18+ years of advanced engineering experience with efficient production and integration expertise to develop first-to-market green computing solutions. The company is committed to protecting the environment through its "We Keep IT Green®" initiative. From motherboards and power supplies designed with the latest high-efficiency components to intelligent power management and cooling subsystems, Supermicro offers the most energy-efficient, environmentally-friendly solutions available on the market.
Founded in 1993 and headquartered in San Jose, California, Supermicro employs approximately 1,300 people worldwide. The company has been profitable every year since inception and has annual sales reaching $1 billion. Products are sold through major distribution channels including VARs, SIs and OEMs worldwide, as well as through its direct sales force. Operations centers are located in Silicon Valley, Taiwan and the Netherlands with a new 1.6 million square foot technology park and advanced integration facility set for completion in Taiwan at the end of 2011.
Supermicro Servers
Now entering our 24th year as a Supermicro reseller, Boston Limited are one of the UK's largest Supermicro SuperServer distribution partners on the market.
Our many years of partnership with Supermicro gives our customers the satisfaction of knowing we are fully experienced and able to offer customer support to a high standard. We have a strong team of trained professionals at our side to ensure that our customers are always happy and chose the right server solutions everytime.
Supermicro designs, develops, manufactures and sells energy-efficient, application optimized server solutions. The company's wide range of products also include energy efficient server components, called Server Building Blocks Solutions, that include serverboards, chassis and power supplies; Supermicro's powerful Universal I/O (UIO) expansion card technology, and other system accessories.
Supermicro SuperServer Benefits:
Uncompromising Quality Control
Most Comprehensive Line of Rackmount/Tower Servers
Best Selection of High-End Servers - Itanium, Xeon & P4
Redundant Components (virtually eliminating system downtime)
Best Price/Performance Ratio
Superior Product Design (all under one roof)
Consistently First-to-Market
Maximized Performance
Reduced Total Cost of Ownership (TCO)
Top-Notch Finishing Materials
These benefits combined with an excellent track record have earned Supermicro a reputation as a true leader in the high-end PC/server industry. After all, Supermicro provides the most outstanding product line in the industry, ranging from single Pentium 4 and dual Xeon to quad Xeon MP and dual Itanium systems. Their proven high level of quality and performance has made SuperServers the platform of choice for supercomputer clusters and enterprise databases as well as business-critical, front-end server applications.
Supermicro SuperServer 5037MC-H8TRF
SYS-5037MC-H8TRF
Intel® Xeon® processor E3-1200 family; socket H2 (LGA 1155)
2x 3.5" Hot-swap SATA3 (6 Gbps)
Up to 32GB DDR3 ECC UDIMM 1333/1066MHz Memory support; 2 channels
1620W Redundant 80 Plus Platinum Level power supplies
---
Supermicro SuperServer 6016GT-TF-FM105
SYS-6016GT-TF-FM105
Intel Xeon processor 5600/5500 series, with QPI up to 6.4 GT/s
Up to 192GB DDR3 1333/ 1066/ 800MHz ECC Registered DIMM / 48GB Unbuffered DIMM
1 (x4) PCI-E 2.0 (Low Profile) 2 (x8) PCI-E 2.0 slots
IPMI 2.0 with KVM
---
Supermicro SuperServer 8016B-TF
SYS-8016B-TF
Intel Xeon processor 7500 series, with QPI up to 6.4 GT/s
Up to 256GB DDR3 1066/978/800MHz ECC Registered DIMM
1 x16 PCI-E 2.0 Slot
Intel 82576 Dual-Port Gigabit Ethernet Controller
3 Total Hot-swap Drive Bays: 3x SAS/SATA Drives Support
Server-grade Performance, Efficiency and Expandability with 24x7 Reliability
Supermicro offers the widest variety of tower-based computing solutions optimized for applications such as scientific and engineering design, 3D modelling and rendering, video/film editing and image processing. In addition, their rich multimedia features are excellent for digital entertainment applications.
High Memory Capacity, Whisper Quiet
The latest CPU and GPU technologies with high memory capacity, how-swappable storage and cooling subsystems and tool-less designs providing the highest performance and availability with ease of maintenance. They run cool and silent with high-efficiency redundant power supplies, "Whisper-Quiet" fans and optimized air-flow chassis designs making them ideal for desktop environments. SuperWorkstations are available as complete systems, or can be custom configured for specific application needs. These solutions provide exceptional performance and efficiency with unbeatable value.
Supermicro SuperServer 7047GR-TRF
SYS-7047GR-TRF
Nvidia Maximus Certified
Duel socket R (LGA 2011) supports Intel® Xeon® processor E5-2600/1600
Up to 512GB DDR3 1600MHz ECC Registered DIMM; 16x DIMM sockets
Mission-critical app
enterprise server
---
Supermicro SuperServer 7037A-I
SYS-7037A-I
Intel® Xeon® processor E5-2600 family; QPI up to 8GT/s
Up to 512GB DDR3 1600MHz ECC Registered DIMM; 16x DIMM sockets
Expansion slots: 3 (x16) PCI-E 3.0, 2 (x8) PCI-E 3.0 & 1 (x4) PCI-E 3.0
Intel® i350 Dual port GbE Controller
8x SATA2 and 2x SATA3 ports
---
Supermicro SuperServer 7047A-T
SYS-7047A-T
Intel® Xeon® processor E5-2600 family; QPI up to 8GT/s
Up to 512GB DDR3 1600MHz ECC Registered DIMM; 16x DIMM sockets
Expansion slots: 3 (x16) PCI-E 3.0, 2 (x8) PCI-E 3.0 & 1 (x4) PCI-E 3.0
Intel® i350 Dual port GbE Controller
4x SATA2 and 6x SATA3 ports
If you are interested in testing one of our these solutions, please let us know by completing the short form below. Once submitted, one of our team will contact you to discuss your requirements and the options available.