Caringo was founded in 2005 to change the economics of storage by designing software from the ground up to solve the issues associated with relentless data growth. Caringo's flagship product, Swarm, decouples data from applications and hardware providing a foundation for continued data access and analysis that continuously evolves while guaranteeing data integrity.
Today, Caringo software-defined object storage solutions are used to preserve and provide access to rapidly scaling data sets across many industries by organizations such as NEP, iQ Media, Argonne National Labs, Texas Tech University, Department of Defense, the Brazilian Federal Court System, City of Austin, British Telecom and hundreds more worldwide.
Swarm Product Brief
Caringo Swarm gives you massively scalable, self-managing storage that unifies data silos and simultaneously handles mixed-use cases with a single deployment so you can extract the value of your data. Caringo, the leader in object storage solutions, leverages a purpose-built clustering architecture that transforms standard hardware into a reliable and searchable pool of scalable storage that is simple to manage. Offered as a complete software or hardware appliance, Swarm provides a platform for data protection, management, organization and search at massive scale. You no longer need to migrate data into disparate solutions for long-term preservation, delivery and analysis. Consolidate all files on Swarm, find the data you are looking for quickly, and reduce total cost of ownership by continuously evolving hardware and optimizing use of your resources.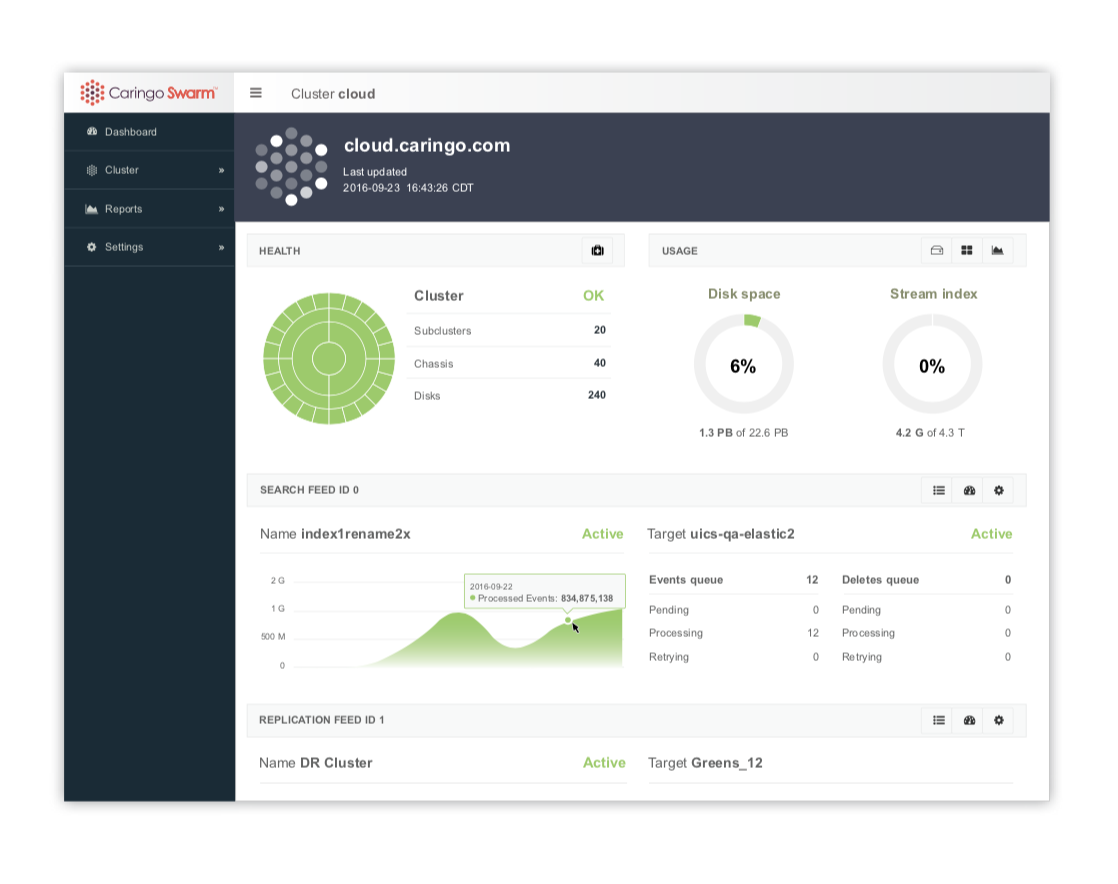 Caringo Drive Product Brief
Caringo Drive is a virtual drive for Caringo Swarm Scale-Out Hybrid Storage. Once installed on macOS® and Microsoft® Windows® you can easily drag and drop files to Swarm.
Super-fast uploads
Swarm access in every application
Mac Finder & Windows Explorer are your user interfaces
System requirements
SwarmNFS Product Brief
Caringo® SwarmNFS is the first lightweight file protocol converter to bring the benefits of scale-out object storage—including built-in data protection, high-availability, and powerful metadata—to NFSv4. Unlike cumbersome file gateways, SwarmNFS is a stateless Linux® process that integrates directly with Caringo Swarm and is deployable on any Linux server or virtual machine (VM) running CentOS™ 7.x. SwarmNFS turns any Swarm object storage environment into a fully distributed NFSv4 solution. With SwarmNFS, a single mount point can be accessed across campus, across the country or across the world. Our patent-pending technology delivers a truly global namespace across NFSv4, S3, HDFS, and SCSP/HTTP.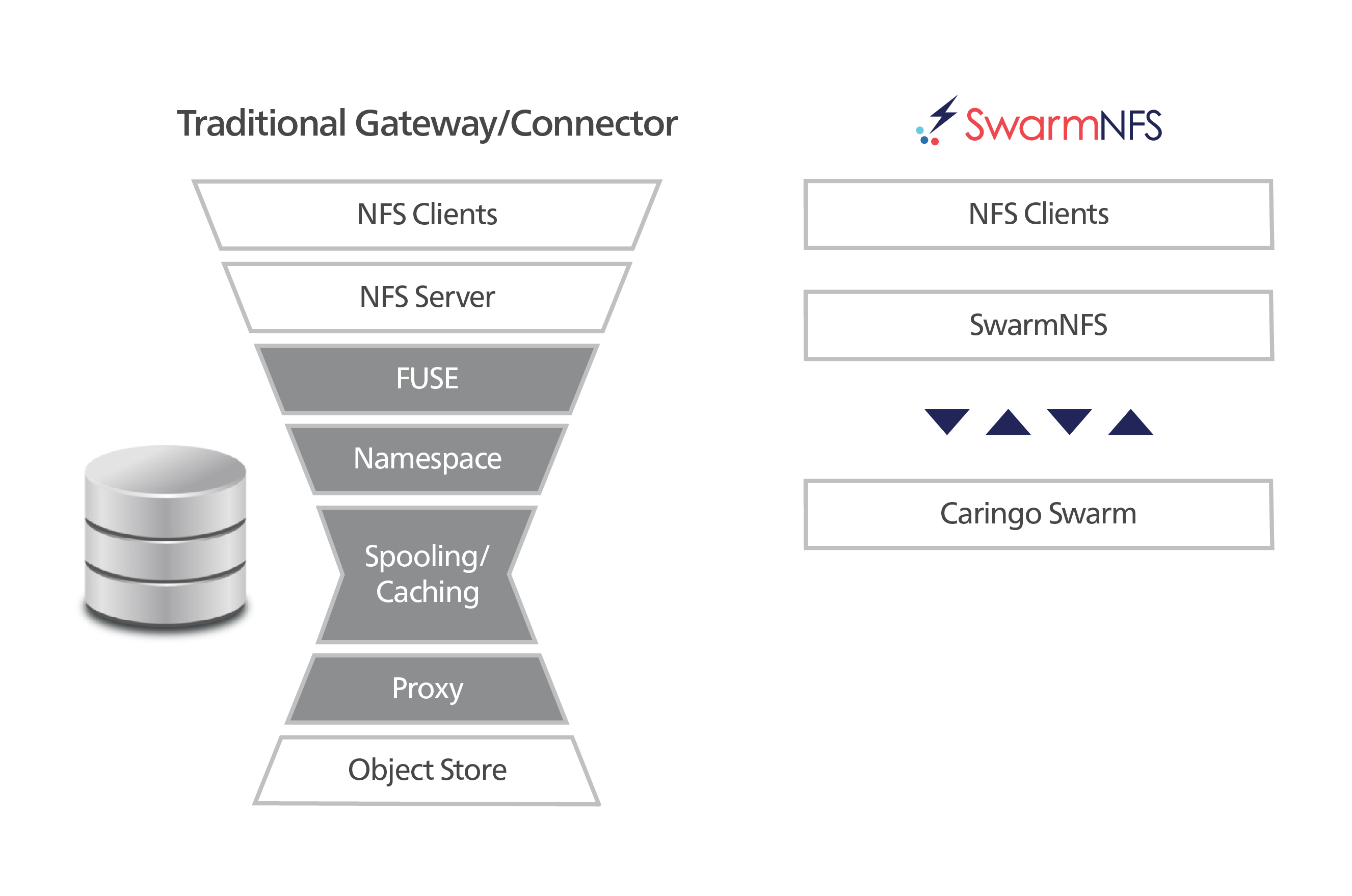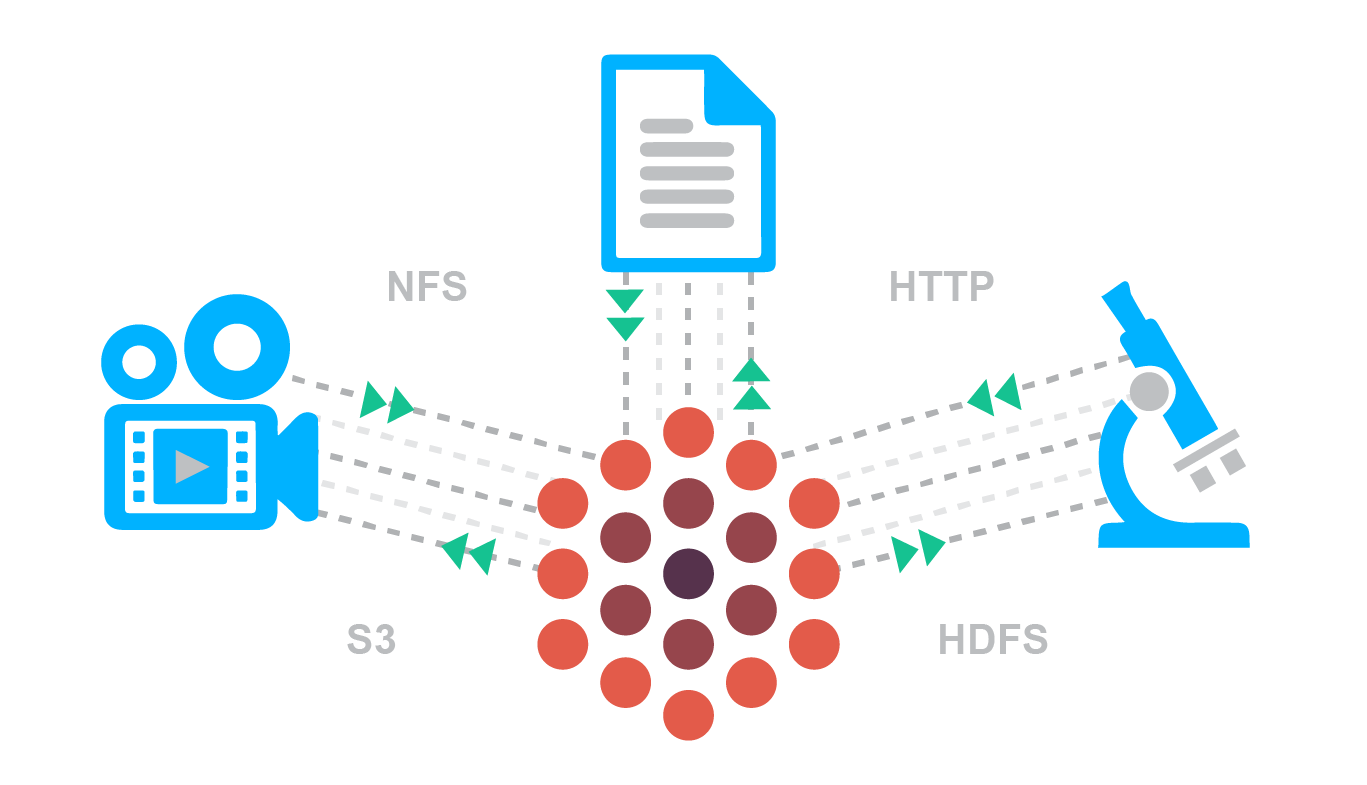 FileFly Product Brief
Can you scale your storage to multiple petabytes and trillions of files, optimize your filers, and consolidate files across multiple locations—all while driving down your total cost of ownership and acquisition? Would you like to take advantage of today's cloud-like storage infrastructure with no application changes and retaining transparent end-user file access? You can, with Caringo® FileFly®. FileFly enables the efficient migration of data from Microsoft® Windows® Servers or NetApp® Filers to a limitless secondary pool of self-healing storage powered by Caringo® Swarm to optimize primary storage assets.