Posted on 12 April, 2021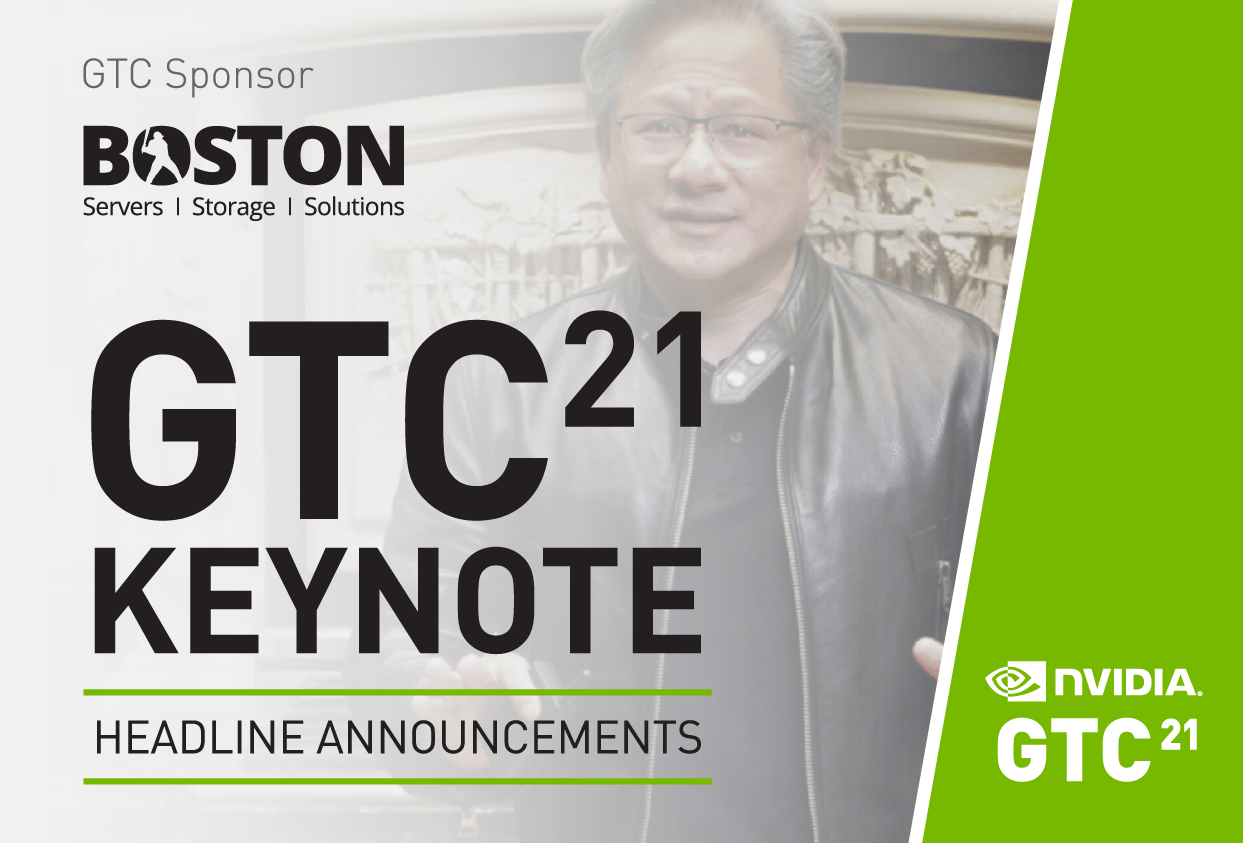 Today saw the opening of #GTC21 and during the keynote, NVIDIA CEO, Jensen Huang, made a number of notable announcements! We've summarised the highlights below.

NVIDIA announced the NVIDIA A30 Tensor Core GPU, a versatile mainstream compute GPU made for AI inference. Bring accelerated performance to every enterprise workload with NVIDIA A30 Tensor Core GPUs. With NVIDIA Ampere architecture Tensor Cores and Multi-Instance GPU (MIG), it delivers speedups securely across diverse workloads, including AI inference at scale and high-performance computing (HPC) applications. By combining fast memory bandwidth and low-power consumption in a PCIe form factor—optimal for mainstream servers—A30 enables an elastic data center and delivers maximum value for enterprises.
To find out more about the NVIDIA A30, download our datasheet here or visit our partner page.

Looking for the perfect mainstream media and graphics with AI GPU? Today at #GTC21, NVIDIA announced NVIDIA-Certified Systems with NVIDIA A10 Tensor Core GPUs. NVIDIA A10 Tensor Core GPU is build for accelerated graphics and video with AI for mainstream enterprise servers. It delivers 2.5X the graphics and over 3X the inference performance compared to the NVIDIA T4.
NVIDIA A10 GPU delivers the performance that designers, engineers, artists, and scientists need to meet today's challenges. A compact, single-slot, 150W GPU, when combined with NVIDIA virtual GPU (vGPU) software, can accelerate multiple data center workloads—from graphics-rich virtual desktop infrastructure (VDI) to AI—in an easily managed, secure, and flexible infrastructure that can scale to accommodate every need.
To find out more about the NVIDIA A10, download our datasheet here or visit our partner page.

Introducing the new NVIDIA A16 GPU, based on the latest NVIDIA Ampere architecture. With 4x the encoder throughput versus NVIDIA T4, it's ideal for high-density, graphics rich VDI. The A16 is purpose-built to provide a superior user experience for remote workers. Future-proof your organisation's remote work strategy with NVIDIA's new A16 GPU. With up to 2X the user density for GPU-accelerated #VDI, the A16 provides a seamless transition between the office and home when paired with NVIDIA vPC.
NVIDIA's new A16 GPU empowers users with increased frame rate and lower end user latency. Give users the consistent, optimal experience that they need with a GPU-accelerated #VDI indistinguishable from a physical PC with A16 and NVIDIA vPC. #GTC21
The A16 GPU allows IT managers to easily protect their investments and lower TCO when paired with NVIDIA vPC. Experience server-side graphics, comprehensive management and monitoring capabilities, and up to 2X the user density over previous generations.

Free up valuable CPU cycles for business-critical applications with NVIDIA BlueField-3. The first 400Gb/s DPU, it can deliver datacentre services equivalent to 300 CPUs. Made for AI and accelerated computing, NVIDIA BlueField-3 brings powerful software-defined networking, storage, and security services into the datacentre. With NVIDIA BlueField-3, every enterprise can deliver applications at any scale with industry-leading performance and datacentre security.
To find out more about the NVIDIA BlueField-3, download our datasheet here or visit our partner page.

Now available, NVIDIA DOCA software simplifies the development of apps that run on NVIDIA BlueField DPUs and achiever breakthrough efficiency and performance. Develop accelerated apps that take advantage of the breakthrough efficiency and security of NVIDIA BlueField DPUs.
NVIDIA EGX Platform
One architecture. Every enterprise workload. Meet the platform that's unifying the datacentre and bringing accelerated computing to every enterprise. Today NVIDIA announced the NVIDIA EGX Platform to enable accelerated computing for modern applications from datacentre to edge. We're excited to be part of the NVIDIA EGX Platform partner ecosystem - a new era of accelerated computing for modern enterprises.
Stay tuned for more announcements during the week at #GTC21! To find out more about the above products mentioned, visit our NVIDIA partner page.
Boston Labs are happy to be accepting requests for a test drive at your convenience. please fill in the form below to book your test drive now!